---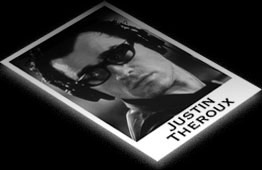 Justin Theroux is an accomplished film and stage actor who's feature film credits include Mary Harron's American Psycho and I Shot Andy Warhol, as well as The Broken Hearts Club, and Romy and Michele's High School Reunion. He will also be seen in a cameo role in the upcoming Zoolander.
Theroux began his career in NY theater. He most recently starred opposite Philip Seymour Hof finan in Shopping and Fucking and starred with Calista Flockhart, Billy Crudup and Lili Taylor in Three Sisters. He is currently in Williamstown for a month-long run of Ulster Marching Toward the Somme.
Theroux is also a writer, and, with his friend Ben Stiller, is co-writing a Vietnam comedy for New Line. His television credits include a starring role in CBSs The Distr~ and guest starring roles on Sex and the City and Spin City.
Theroux was born and raised in Washington, D.C., and graduated from Bennington College.
from the Official Press Kit
---
Trivia
Does David Lynch like to play games: In 1997 Justin Theroux had a very small part in a movie called 'Romy and Michele's High School Reunion'. In it he was a mysterious stranger, dressed all in black and wearing a cowboy outfit. In the credits he's listed as 'The Cowboy'.
---
ROLE:

2006

Chlorine

Doug

Tropic Thunder

2005

Lucy

Searching for Sarah

Jeremy Reardon

The Baxter

Bradley

The Legend of Lucy Keyes

Guy Cooley

Strangers with Candy

Mr. Carlo Honklin

2003

Nowhere to Go But Up

Jack

Duplex

Coop

2001

Zoolander

Evil DJ

Mulholland Dr.

Adam Kesher

Sleepy Time Gal, The

Rebecca's Boyfriend

2000

The Broken Hearts Club: A Romantic Comedy

Marshall

1999

Backwards Looks, Far Corners

Dead Broke

James

1998

Frogs for Snakes

Flav

1997

Dream House

Mark Brooks

Below Utopia

Daniel Beckett

Romy and Michele's High School Reunion

Cowboy

1996

I Shot Andy Warhol

Mark
---