RobertForster
---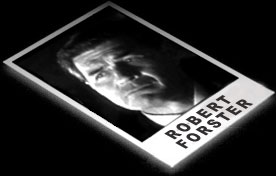 Robert Forster received an Oscar nomination for Best Supporting Actor in Jackie Brown. This was just the beginning of a phenomenal resurgence for Robert Forster. He has described his career as having "a five-year upwards first act and a twenty-five year sliding second act," but since his nomination, his third act has been non-stop schedule of theatrical and television projects. This year he received rave reviews starring in David Mamet's , directed by Joe Mantagne and will appear in the upcoming Rat in a Can with Rose McGowan and Diamond Men starring with Donnie Wahlberg as the young replacement that Forster is forced to train as a traveling salesman.
Other recent film projects include Me, Myself and Irene co-starring with Jim Carrey and Rene Zellweger, Supernova, Outside Ozona, The Magic of Marciano with Nastasjin Kinski, as well as the television update of Rear Window co-starring Christopher Reeves and The Klines with Mary Tyler Moore.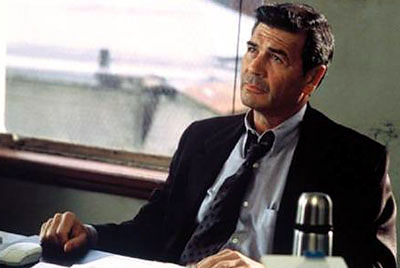 In 1966 Forster blazed onto the scene in his debut Reflections on a Golden Eye, co-starring Marlon Brando, Elisabeth Taylor and directed by John Huston. He followed this in 1968 with the seminal film Medium Cool, by Haskell Wexler in which he played a TV newsman whose carefully guarded objectivity is undercut by the events at the Democratic convention in Chicago. He continued to do good work in less prominent films, and also starred in several televisions series including the noir series Banyon, which according to Forster was filled with "fast cars and faster women." Forster always felt that if he persisted, someday a young hotshot filmmaker, familiar with his work, would create a role for him.
What he didn't realize was that there would be two young directors anxious to cast him. One was Quentin Tarantino, who had wanted him for two earlier films but then insisted that Forster play the bail-bondsman in Jackie Brown with Pam Grier and Samuel L. Jackson. The second young director was Englishman Paul Chart, who wrote the role of Doctor Jake Nyman in the thriller American Perfekt with Forster in mind. The film, also starring Amanda Plummer, David Thewlis and Paul Sorvino was recently released in Canada and Europe.
from the Official Press Kit
---
Trivia: Kate Forster, who plays the "ever-lovely" Martha Johnson in the audition scene, is actually the daughter of Robert Forster.
---
Thread: Robert Forster's explanation of the film - (hayworth46)
Interviews:
A note from Robert Forster (Kate Forster actually)
Audio interview
---