---
Thread: Determinism in David Lynch's Mulholland Drive - (Bob Brooker) | Original essay by Frank Wittchow (German)
---
fate & Reincarnation
Synopsis:
There is one ever-recurring theme at work: A story where a Blonde is going to meet a dark-haired woman, who is going to ruin her life, culminating in the demise for both characters. Now, the film jumps right in when an instance of this drama is coming to its end. Rita was supposed to die on Mulholland Dr., while her antipode already lies dead in apartment 17 (sinking into a pillow in the opening scene). However, Rita survives and unknowningly stumbles into the next incarnation of the play. Betty was to meet Rita's "sucessor" but the presence of the "ghost" character disrupts the integrity of her story. Rita's vestigial memory leads them to her dead counterpart at Sierra Bonita, which was not part of Betty's plot at all. The botchered episode comes to an end when Betty hands Rita the key and box which was meant for herself. The movie's second part presents a third instance of the same script.
Full text:
First off, I do not share the classical view of the film being divided into a dream and a reality part. No question: Evidently the film breaks down into two portions of unlike sizes, of which the second, shorter one, consists of ostentatious motif variations of the first one. And it's also true that with the significantly slowed-down camera work and the focusing on single distinct motifs the film creates a nightmarish atmosphere. However, the dreamlike nature of Lynch's films results from the fact that reality often is nightmarish – not because things are simply dreamed up.
A strong argument against a dream/reality interpretation stems from a short sequence in the beginning of the film. Before we see Rita in the limo heading up Mulholland Drive there is a shot of a red pillow. We hear the panting of a woman, who - by indication of the camera movement - seems to sink into the pillow. We do not see the woman, but we can clearly identify the bed; it is the one we later see the corpse and then Diane lying in. Does Diane delve into dreamland in the beginning and does she wake up when the first part ends? I think not. Two major themes, the quest for identity as pivotal to all characters in the film (Lynch himself emphasizes it in an interview in the DVD extras) as well as the idea of destiny essentially get lost this way, because the elaborate search of one's identity is being suspended in the definiteness of wish and reality. The idea of fate, playing such a central role in first part, in shape of the Cowboy, the bum and before all, in the story of Adam Kesher, becomes a sole metaphor.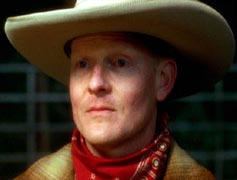 My first consideration is given to the Cowboy. His words to Adam, about a buggy and the one that is driving it, refer to the concept of fate reminiscent of the Greek stoicism. This school of philosophy advocated absolute determinism and employed such example as the following:
"… that just as a dog, supposing him attached to a car, if indeed he is disposed to follow, both is drawn, or follows voluntarily, making an exercise also of free power, in combination with necessity, that is, fate; but if he may not be disposed to follow, he will altogether be coerced to do so."
And the same, of course, holds good in the case of men. Stoics would argue, the free will of a man consists in his attitude towards what is bound to happen. The task of the wise man is to realize nature (and hence fate) and to align himself in order to be happy. Rebellion only leads to distress.
I believe this to be the film's central message. Kesher picks a fight with the movie executives who may destroy him. But the destruction is of cosmic nature. Despite his resistance, Kesher's existence comes to dissolves at fast pace. He is expelled from home, he wanders about places, that, in fact, do not provide refuge. He must accept his destiny in order to go on with life. The Cowboy stands for fate that drives the buggy of life. He is clinical and, by his absurd appearance, a character of no specific qualities (fate is faceless) – unlike the bum behind Winkies, who is the devil and god at the same time. Together they present the execution of fate.
Now, the same lesson awaits Rita and Betty. Alas, there is no cowboy for them to be taught by. They have to find their own paths. For the most interesting part there is Rita. Like Adam she has dropped out of her existence, she too is being followed. But unlike Kesher she does not find the way back into her life but exits the scenery in mysterious manner. Why can't she just revert to where she was? What makes her different from the Kesher character? Kesher is supposed to play a certain role in life. As he tries to break out of it, measures are taken to tie him back to the buggy. Such does not apply to Rita, because her role is played off. Her mistake is that she tries to play on. We know that she did not die on Mulholland Drive – yet she was supposed to, that was her script. So what went wrong? I believe in a happy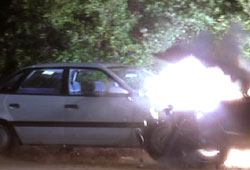 accident. Some antique schools of philosophy have it that beside determinism there is also coincidence in the world. They postulate, destiny would only determine major events and that there is scope for free will as well as chance. Such as the car crash. The drag racing has something aleatory about it. Those kids are taking their chances, they do not play with fate but with fortune. Unfortunately, the scope of coincidence and determinism collide. Or in other words: From the viewpoint of fate and its agents, there was a glitch. Or in even other words: The real car crash is also a metaphysical accident. The story being told in first part is the story of fixing that accident, up to the point where the two women admit that they cannot carry on. They overestimated the amount of free will they were given by fate. They do so because they are clueless about the concept of fate in the first place. Yet they are to find out. And the answer being: Rita has to disappear, because she has lived beyond her time. She is an undead. It is no coincidence that the hitman, who is after her, takes possession of the book titled "history of the world in phone numbers". That book contains the script of life and it is none of human business, even less so if a faux pas happened to occur in it. In this situation fate is handling the telephone masterfully. When the two women start heading for Diane Selwyn's apartment, and the woman who switched places with her is about to tag along, it is a phone call that keeps her off.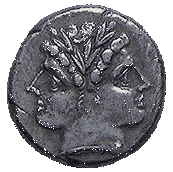 Now we are able take it a step further and ask why Rita was supposed to die. The women's interrogation leads to the body of a blond lady. There is probably consent over the fact that Betty is not faced with herself, in a strict sense. Neither is the woman identical to Diane of the second part. Her hair is slightly different and she is wearing a dark negligee while Diane of second part dies in her morning gown. I believe the corpse to be a figure of Rita's life. The Brunette and the Blonde together build a Janus head – they are bound by fate. Fate, and that is the reason behind the doubling of motifs, always tells the same story. It casts souls for parts. When a role is played off, the body as the role's vessel dies and the soul returns to a pool of ensouled actors, ready to be recast.
That idea is being illustrated in a scene I have withheld hitherto. Most people forget about the opening of Mulholland Dr. because it does not seem to belong to the rest of the film. It elevates itself from the remaining soundtrack by assertively frisky dance music (Jitterbug). We watch dancing couples superimposed on a magenta, impermeable background. Some of the dancers become transparent and disappear. Out of a sudden, we see a bright silhouette that soon snaps into focus: Betty wins her jitterbug contest in Deep River Ontario and emerges with the old couple at L.A. airport. This scene is of particular interest, because it is actually Diane of the second part who won this contest. Nevertheless, this scene takes place right before the woman descents into the pillow. Going with the dream interpretation – of all pieces, it is this one that firmly belongs to Diane's background and yet doesn't become a part of her dream, but precedes it. And of all pieces, it is this one that looks most unreal, and of all scenes, it is this one that does not produce Diane, but Betty. (Note that the credits list the character as Betty and not as Diane.)
The jitterbug scene marks a stage before the protagonists step into the dream world of Hollywood. And precisely this phase of pre-entering the story seems vague and unreal. The reason for this pre-stage to be placed ahead of the entire film is that it applies to all protagonists alike. I see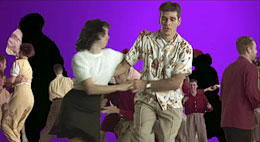 those dancers as souls in the underworld which is kept in magenta, somewhat similar to the blue box that forms its entrance. Before entering a body, those souls do not have a concept of life. They dance away without rhyme or reason. When a role needs to be cast, they get picked up by soul guides in shape of two elderly, which I will discuss in more detail immediately. This time it is Betty to be called into being, but it could as well have been Diane or anyone else standing in line. The idea of reincarnation, and that is what it is probably called, is based on the assumption, that no soul is newly created or goes missing. Even if you do not subscribe to this admittedly daring interpretation of the opening scene, to my mind it is rather obvious, that there is only a limited number of 'dramatic persona' allowed to act on the story's surface. And if we further assume the Lynchian color blue to be a leitmotif, then Club Silencio, the box, the key and this odd opening scene are linked. In any case, the box seems to function as a gateway between acts.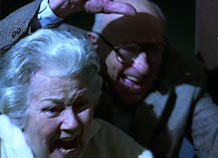 Now we are all set to take a look at the bigger picture. Two women of complementary nature become friends, the one naοve, the other one hard-boiled, the one a virgin, her counterpart sexually mature. If one of them dies, the other is likewise to fall. Diane Selwyn in second part wants Camilla dead and in consequence has to kill herself. How strictly the script of fate is written and how little room there is for personal intervention, is impressively depicted in the film's closing, where emissaries of the black demon downright force Diane to take her life. These two figures are the old couple that first showed up when Betty landed at L.A. It was there when she entered the script of history and therefore her life, as she was virtually born that moment. The elderly escort her like antique psychopompi out of the underworld into this world. And they are gonna come for her again, in the same way they pick up Diane in second part: The couple emerges from the blue box, that sucked Rita in. This box works as an entrance to the underworld. Then they knock hard and threateningly on Diane's door. Imagine the old familiar picture: Fate comes knocking on the door. Yet, Diane does not have to answer, fate is going to get her anyway, crawling under the door.
I previously named the trouble in first part: Rita survived due to a cosmic accident, the clash of coincidence and determinism. Her antipode in apartment 17, however, submitted to her role already and killed herself or died some other way. That is the opening scene: We do not see/hear a woman lying down to sleep, but one lying down to die. The retake on a story told by destiny always bears small, but utterly peripheral differences. You could say: One time a body would play this role, another time that role. The switching of roles is being experienced as individuality. However, that is exactly what Lynch rejects. What appears to be the own voice, is all a tape. Constantly in this film acting and speaking parts diverge. You might just think of Betty's audition, wherein the script being rehearsed involves an aggressive controversy, while Betty mysteriously loses control of her body language and stages an erotic advance. This clearly underpins the key note of the film: By means of speech and reasoning we are able to make whatever sense of our lives, the acting just has nothing to do with it. And the same goes visa versa. The meaning, one believes to have given himself, is tape-recorded and lives on, when the vessel of the thought drops to the ground.
That is the bitter message that Rita, on finding the corpse, understands much better than Betty, who in fact is only at the beginning of her story. Rita panics as she recognizes her antipode lying in that bed, knowing that her part is played off. The story of a Brunette and a Blonde is something that she went through before. She must not take part in Betty's story. She has no part in life. She should not have left her predetermined path - Mulholland Drive. That explains her attempt to hide in Betty's role by wearing a blond wig. It is only at Club Silencio that the two realize their plan did not work, that they could not fool death, the devil, god, destiny. Yet it is Betty, who hands Rita the blue box providing her a way out of the story.
Why is Betty in possession of the box, how does she know it belongs to the blue key? Because the blue box is supposed to be the exit to Betty's story. A story where she is going to meet a dark-haired woman, who is going to ruin her life, but who presents her inevitable counterpart. That is why she instinctively reacts with affection towards Rita, an affection that is unwarranted. Because Rita is her fateful antipode, alas from a different story that has already been told, a cast left over from a previous filming of the same script. That is why things get out of hand, that is why Teen-Betty suddenly takes on the active role, while Rita, the Femme Fatale, turns into a child adrift due to her amnesia.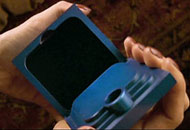 So the first part does not "start off" with an accident, it "tells" the story of an accident, an accident of fatum and fortuitum. The clash of contingency and the determined opens up a minute space for free will. Betty deploys it for an act of loving sacrifice, when she passes Rita the box which was actually meant for herself. In doing so she resigns from her life, a life that would be miserable, but a life nonetheless. She disappears from the film without an exit, she fades, because David Lynch had her to. The story has fallen apart, not because Lynch could not get his TV project financed, but because Betty rejects the script. Nonetheless, this enables the story to be told over again which is what we get to see in second part: It is neither a flashback, nor a later stage of the story told in first part, but another variation of the same old script of life.
I tried to show that with this film David Lynch is arguing for a radical and dark determinism, according to which people in life, as in films, play roles that they are not in control of. By no means will that make life a dull endeavor, as destiny still has to be found out. Yet, it is a painful quest that the two women are in for. In a way Betty and Rita are like newborns, Betty due to her immaturity, and Rita due to her amnesia. They are searching for identities, only to find roles. - (Frank Wittchow)
---