---
Ann Miller was born Johnnie Lucille Coiller on April 12, 1923 in Houston, Texas. The star of forty motion pictures as well as Broadway shows, national tours, and innumerable television appearances, Ann Miller. "THE QUEEN OF TAP" has enjoyed one of the longest careers in Hollywood.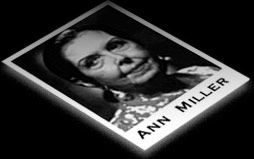 Ann began her Hollywood career at age 11, after having won a contest at the Orpheum Theater she enjoyed her first professional stage experience when she performed in a two- week engagement at the Los Angeles Orpheum and earned $50.00 per week. At the age of 13, Ann was put under contract with RKO and was so remarkably talented that by age 14, she landed the role of Ginger Rogers's dancing partner in Stage Door which started a motion picture career which has spanned many years.
At fifteen, Ann was "borrowed" by Columbia studios to appear in 1938s Academy Award Winning Best Picture: You Can't Take It With You with James Stewart and Jean Arthur. She then appeared with the Marx Brothers in Room Service. When Broadway called, Ann answered. She starred in the 1939-1940 production of The George White Scandals. She returned to Los Angeles to appear in the Rogers and Hart musical Too Many Girls, in Gene Autry's first musical Melody Ranch, and in Hit Parade.
From the late 40's to the mid-50's, Ann, under contract at Metro-Goldwyn-Mayer, starred in some of MGM's most spectacular musical productions including Easter Parade with Fred Astaire, On the Town with Gene Kelly and probably her most memorable film Kiss Me Kate. Several of Ann Miller's legendary song and dance routines were featured in That's Dancing and the popular retrospective films That's Entertainment I and That's Entertainment II. For years, MGM was proud to have the outgoing, charming, and multi-talented Ann Miller in their stable of stars, sending Ms. Miller around the world on personal appearances and speaking engagements. She appeared in Bob Hope's Timex TV Hour in Morocco. In 120 degree heat Ann Miller made light of the sticky situation as she sang and danced TOO DARN HOT for an audience of five thousand soldiers.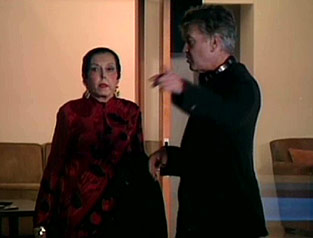 Ann Miller is the recipient of many awards including: The Best Legs Award from the Hall of Fame, The George M. Cohen Award for the best female Entertainer in 1980 and the prestigious Sarah Siddons; award for Best performer of the Year for Sugar Babies in 1984. She was also nominated for a Tony Award as well as the Laurence Oliver Award in London for Sugar Babies. She was recently honored on This Is Your Life television show in England. Ann received an award for the best Dance Number from the Dance Awards of America. In 1992 she was honored for the Lifetime Achievement Award given by the University of Southern California. Ann recently received the coveted Ms. Wonderful Award from the Thalians and then the Gene Autry Golden Boot Award for her performances in Western films. She has also won The Gypsy and Flo-Bert Awards praising her dance abilities. In April of 1998 Ms. Miller received an Award from the Smithsonian Institute for Women In Tap. Her tap shoes, Moe and Joe, are on display at the Washington D.C. Museum. Also, in January 1998, Ann received her second star on Hollywood's Walk of Fame.
Currently the Queen of Tap resides in Beverly Hills with her secretary and her two dogs, Angel and Koko. Ann travels back and forth between her homes in Los Angeles and Sedona, Arizona. She is an avid reader, archeology being one of her favorite topics. Ann has traveled extensively to Egypt, Israel, and the Middle East. Ann has also written two books, "Miller's High Life" and "Tapping Into the Force."
Ann Miller just enjoyed a triumphant success in the revival of Stephen Sondheim's Foffks at Papennill Playhouse. That performance was recorded and will be released on TVT Records in August of '98.
from the Official Press Kit
Ann Miller died 22 January, 2004 at the age of 81 from lung cancer and was interred in the Holy Cross Cemetery in Culver City, California.
---
"She is a real straight shooter, just the kindest, most professional, anything-goes great gal you ever want to meet." (David Lynch about Ann Miller)
---
I came across DVD, probably owned by my aunt, for the 1949 movie On the Town starring Frank Sinatra, Gene Kelly and none other than our own Ann Miller. Watched it for the heck of it, it is one of those movies "they just don`t make anymore". She was a true beauty and a glamorous Hollywood starlet, about age 26 at the time, and bore a striking resemblance to Laura Harring. I am sure that all of this was not lost on Lynch in casting her for the role of "Coco". - (86Celticsboy)
---
Coincidental facts
Ann Miller was very fond of her dog. The dog's name is Koko.

She played alongside actress Betty Rhodes in a few of her pictures.

She played the presidents girl #2 in Won Ton Ton, the Dog Who Saved Hollywood (1976). In 1924 Estie comes to Hollywood to become an actress, but the dog, that followed her becomes the star. But Hollywood has its own rules of sucess. Directed by...Michael Winner, who also directed The Big Sleep's remake, where Carmen is changed to Camilla.
---
More facts
Had a baby girl who died 3 hours after birth.

Had to wear ballet shoes to dance with Fred Astaire because she was so tall.

Like Betty Grable, Ann's legs were insured by RKO for $1,000,000.

Father was a well-known criminal lawyer who defended such infamous gangsters as Baby Face Nelson and Bonnie and Clyde.

Discovered by RKO film star Lucille Ball while doing a show in a San Francisco nightclub.

Miscarried her baby when she fell down a flight of stairs after a fight with husband Reese Milner.

Refusing to do movies for years because disliked nudity and sex, she finally relented and returned to films after nearly four decades with David Lynch's Mulholland Dr. (2001) in 2002, which contained nudity and explicit sex.

She was named "Johnnie" by her father, who was expecting a boy.

Claimed her difficulty maintaining relationships with men was due to her being an Egyptian queen in a past life and executing any men who displeased her.
---
Thread: Ann Miller - (Bananna)
---