---
Full Credits | Awards | Combined Details | Box Office | Film Trivia | Sierra Bonita Apartment Listing
---
---

| | |
| --- | --- |
| Actor/Actress | Main Characters |
| | |
| | |
| | |
| | |
| | |
| | |
| | |

---

| | |
| --- | --- |
| Actor/Actress | Phone Call Chain |
| | |
| Joseph Kearney | Roque's Manservant |
| Enrique Buelna | Back of Head Man |
| Richard Mead | Hairy-Armed Man |

---

| | |
| --- | --- |
| Actor/Actress | 1612 Havenhurst |
| Lee Grant | |
| Maya Bond | |
| Desi Singh | First Cab Driver |

---

| | |
| --- | --- |
| Actor/Actress | Ed's Shabby Office |
| Mark Pellegrino | |
| Vincent Castellanos | |
| Diane Nelson | Heavy-Set Woman |
| Charles Croughwell | |

---

| | |
| --- | --- |
| Actor/Actress | Pink's |
| Rena Riffel | |
| Michael Des Barres | Billy Deznutz, Pimp |

---

Actor/Actress

Casting Set

Elizabeth Lackey

Brian Beacock

Backup Singer #1

Blake Lindsley

Backup Singer #2

Adrien Curry

Backup Singer #3

Tyrah M. Lindsey

Backup Singer #4

Michael D. Weatherred

Hank, Assistant Director

Michael Fairman

---

| | |
| --- | --- |
| Actor/Actress | Sierra Bonita |
| Johanna Stein | |
| Lyssie Powell | |

---

| | |
| --- | --- |
| Actor/Actress | Jitterbug Contest |
| Kimberly Clever | Dancer |
| Joshua Collazo | Dancer |
| David Frutos | Dancer |
| Peter Loggins | Dancer |
| Lisa Ferguson | Dancer |
| Theresa Salazar | Dancer |
| Thea Samuels | Dancer |
| Christian Thompson | Dancer |

| | |
| --- | --- |
| Limo Crash | Actor/Actress |
| | |
| | Brent Briscoe |
| Limo Driver | Scott Wulff |

---

| | |
| --- | --- |
| Winkie's | Actor/Actress |
| | Patrick Fischler |
| | Michael Cooke |
| | Bonnie Aarons |
| | Melissa 'Missy' Crider |

---

| | |
| --- | --- |
| LAX | Actor/Actress |
| | Jeanne Bates |
| | Dan Birnbaum |
| Cab Driver at LAX | Sean Everett |

---

| | |
| --- | --- |
| Ryan Board | Actor/Actress |
| | |
| | |
| | Robert Katims |
| | Marcus Graham |
| Espresso Man | Tom Morris |
| Valet Attendant | Daniel Rey |
| Castigliane Limo Driver | Matt Gallini |
| Robert Smith | David Schroeder |

---

| | |
| --- | --- |
| 6980 Mulholland Dr. | Actor/Actress |
| | Lori Heuring |
| | Billy Ray Cyrus |
| | Tad Horino |
| Kenny | Tony Longo |
| | Scott Coffey |

---

| | |
| --- | --- |
| Park Hotel / Corral | Actor/Actress |
| | Katharine Towne |
| | Geno Silva |
| | Lafayette Montgomery |

---

| | |
| --- | --- |
| Audition | Actor/Actress |
| | James Karen |
| | Chad Everett |
| | Wayne Grace |
| Linney James | Rita Taggart |
| Nicki Pelazza | Michele Hicks |
| Martha Johnson | Kate Forster |
| | Lisa K. Ferguson |
| 2nd Assistant Director | William Ostrander |

---

| | |
| --- | --- |
| Club Silencio | Actor/Actress |
| | Richard Green |
| Trumpet Player | Conte Candoli |
| | Cori Glazer |
| | Herself |
Film dedicated to: Jennifer Syme
---
Lynch on his casting process
FILMMAKER: Tell me a little bit about your casting process.
LYNCH: Get the right person for the role. In this case, I needed to look in an area where I could find people who would go for a long time in a series. But I looked for them in the same way [that I cast MY features]. I start with still photos, and that gets narrowed down, and eventually I sit one on one [with the actors]. I never read anybody - nobody reads any part of the script. I just talk to them, and as I'm talking to them I'm running the scenes of the film.
FILMMAKER: Do you cast on the basis of those meetings, or do you then give out the script and call people back?
LYNCH: No, no. They don't read before they're cast because then I'll just start wanting to rehearse. It's unfair to an actor, I think, to have them do a cold reading. They could be the right one, but they've got the wrong take on it at first. It could be a heartache for them. It's not the way to find the right person in my book.
---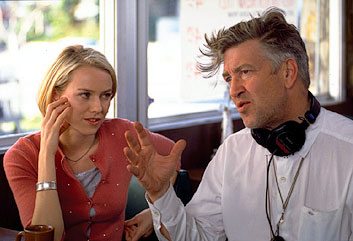 As to how Lynch works with his actors, he feels it is important not to let the cast know the whole story, or even the ending of the film:
LYNCH: What's important is that they get all they need to go forward with their character. Just like we are all going through the world, we all don't know all there is to know about the world, but we know our role to a certain degree." Lynch adds, "It's partly to protect the whole thing. Sometimes when you say things out loud, some power leaks out of it.
---
Naomi Watts about Lynch's directing
On top of that, working with David was an extremely different experience, because the way he works with his actors is quite different from the normal director-actor relationship. He really doesn't tell you much about what he's thinking. I know he's not divulging anything to the press [about the film], but he's the same with actors. He wants you to interpret it yourself, so he doesn't give directions. As actors, for the most part we're trained to know where we've come from, where we're going, what the truth and meaning is behind every scene, but he basically asks us to undo all that. He's saying that all those questions don't matter, that you simply treat each scene with the right mood and ideas that it needs. David guides you along, but he doesn't tell you exactly what it is or what it means, so it's up to you to make [those things] up.
---
Thread: Names in MD... - (unc84steve)
---