---
Threads: Coen Bros first to pay tribute to David Lynch? - (blu-riven) | Related: Movie References
---
Brian De Palma's Femme Fatale (2002) is an intricate eye-candy drama – one part film noir, one part Hitchcock, one part Mission Impossible. Connections to Mulholland Dr. include: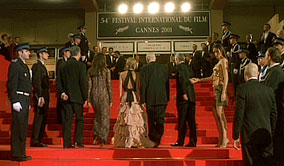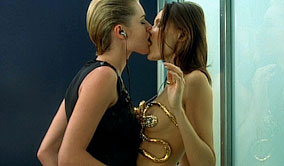 Scenes filmed at the Cannes Film Festival in 2001 where David Lynch won Best Director for Mulholland Dr. Director Brian De Palma originally wanted to have Lynch in Femme Fatale arriving for the premiere of his film but with scheduling conflicts this didn't happen. In essence, this would mean that Mulholland Dr. would be the reason for Lynch's presence at Cannes making for a neat reference.

The protagonist is also named Laure Watts which is darn close to the first name/last name of the two protagonists in Mulholland Dr. - Laura Harring and Naomi Watts. Of note Rebecca Romijin, like Naomi Watts (Betty/Diane), plays two characters: Laure/Lily.

Another related plot point is the idea of the films both not being straight narratives. In Femme Fatale there is the issue of an attempted suicide attempt by a shot to the head and in MD we see a shot to the head. In MD we don't know that this occurs or whether it is a dream and in Femme Fatale it is also unclear. Overall, the ideas in both films involve the viewer determining what is reality and what is dream/alternate reality.

Is Betty really Diane or are they merely dream related (or otherwise) look-a-likes? In Femme Fatale we have a woman take over the identity of a look-a-like.

A more straightforward Mulholland Dr. reference is the girl/girl sex scene between a blonde and a brunette at Cannes.
---
Possible visual references:
Femme Fatale (2002)

Mulholland Dr. (2001)

A black limousine is at outside the embassy when a fatal accident happens. The cameras flash reminiscent of the light flash/blinding light around the black limo during the fatal crash on Mulholland Dr.

---

Another similarity is the caretaker/Aunt Ruth in Mulholland Dr. arranging the transportation for some suitcases.
In Femme Fatale we have a caretaker is also an older red-head. Of note, the woman bares a resemblance to Linney James.

---

Similar looking lampshades

---

Woman arriving with blue suitcases

---

Plot points surround dangerous looking men and blue vans

---

Wigs at the ready
---
Why there is not one moment that connects the two films in a nice neat package, the sum of many smaller points paint the story. It seems quite likely that De Palma references Mulholland Dr. While nothing definite, it would seem good to observe the rule: 'trust the art, not the artist.' While De Palma may be telling the truth that he didn't see Mulholland Dr. to after his film had wrapped it may simply be the two directors exchanging notes over the phone. As with many things around Mulholland Dr., sometimes it is just better to not know all the details and simply revel in the uncertainty. Note, Brian De Palma's next movie is "The Black Dahlia", which also is a story connected to MD. »more
---